Treatment Consent Information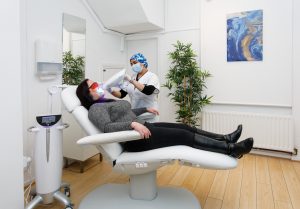 This information has been given to me so that I can make an informed decision about having my teeth cosmetically whitened.
If you have any questions about the below information please feel free to contact us by clicking the "chat" or "contact us" below or call the relevant clinic where our call center staff will be happy to assist.
Description of Procedure:
Please see the treatment introduction video at the bottom of this page for a full description of what happens on the day and how the treatment is performed.  On the day during the consultation process please feel free to ask any questions where your dental professional can discuss and answer to your satisfaction prior to going ahead with the treatment. Please also  review our FAQ's below for further information if desired.
Almost all natural teeth can benefit from significant whitening, However, I understand that the white house can only guarantee 5 shades whiter. The level of whitening depends on the mineral content found within my own teeth and what type of stains have built up over the years, and I may need additional time which would be free of charge if required.
I understand that Beyond professional whitening treatments are not intended to lighten artificial teeth, caps, crowns, veneers, or porcelain, composite, or other restorative materials.
I understand that people with darkly stained yellow, or yellowish–brown teeth, frequently achieve better results than people with grey or bluish-grey teeth.
I understand that teeth with multiple discolorations, bands, lines or spots due to tetracycline, fluorosis or calcium spots may have a less dramatic whitening result and may temporarily accentuate this.
Treatment is for over 18 only:
Products containing or releasing between 0.1% and 6% hydrogen peroxide cannot be used on any person under 18 years of age except where such use is intended wholly for the purpose of treating or preventing disease, as our treatment is intended for cosmetic use only we are not permitted to provide whitening to under 18's
Pregnancy and Breastfeeding:
Although there are no known side effects, tests have not been carried out on pregnant or breastfeeding women and since Teeth Whitening is an optional, cosmetic procedure, there is no reason to undergo any teeth whitening treatment while you're pregnant or breastfeeding.
PATIENT CONSENT
I acknowledge that: I understand that although my professional teeth whitening specialist has been trained in the proper use of Beyond teeth whitening system, the treatment is not without risk. I understand that some of the potential complications include; and are not limited to:
Tooth Sensitivity: 
Generally, our teeth whitening treatment causes no sensitivity at all. However, a very small percentage of people with unusually sensitive teeth may experience mild sensitivity. This usually subsides within a couple of hours after the treatment. Patients with unusually sensitive teeth, recently cracked teeth, abfractions (micro-cracks), open cavities, leaking fillings, or other dental conditions that cause sensitivity, may find that tooth sensitivity is prolonged.
Gum irritation:
On a rare occasion the whitening gel can come in to contact with the gum tissue during the treatment, which may cause inflammation or whitening of the gums or gum-line. This may also cause a mild tingling sensation to the gums, but will subside almost immediately after the treatment.
Dry lips:
During the procedure, a cheek retractor is used to enable clear access to the teeth and gums. The cheek retractor stretches the lips, and although we provide lip balm it can result in drying or chapping of the lips.
Relapse:
Within the initial 24 hours I understand that I must avoid dark-staining food or drinks and cigarettes completely as per the advice of the teeth whitening specialist after my treatment as otherwise, the whiteness will regress.

I understand that in a few rare cases, a regression might also happen due to the mineral content of my own teeth and I may need additional time of treatment, which would be provided by The White House clinic.

It is natural for the teeth whiteness to regress over time, teeth stain naturally depending on lifestyle, eating and drinking habits, and age.

I understand that the results of this treatment are not intended to be permanent and that secondary or repeat treatments may be needed to maintain the tooth whiteness.
COVID -19 Health Declaration
I confirm that I have read over all information regarding health measures taken by The White House and agree to cooperate with all new safety measures.
The White House – COVID-19 Information page
I verify that I will not present with any of the symptoms of COVID-19 See NHS COVID – 19 Symptoms here.
If necessary you can reschedule your appointment at any time using the links that will be provided in your email.